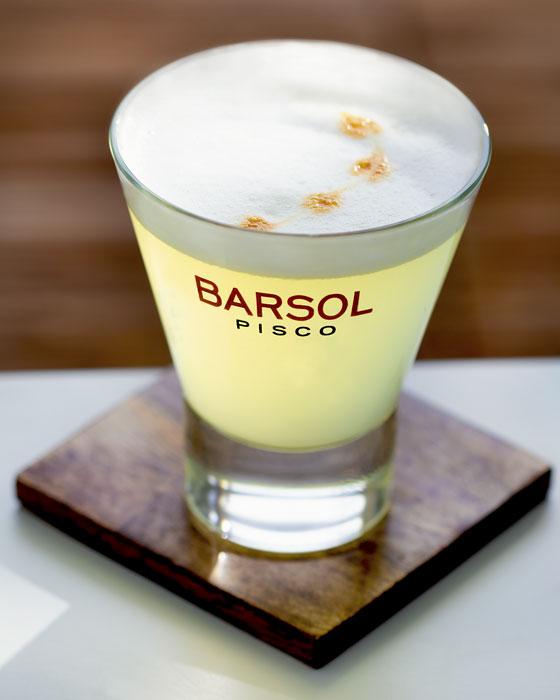 The wellknown Pisco cocktailinvented around 1916 by the American Victor Morris in Lima / Peru as a variation of the Whiskey Sour. In the 1930s eggwhite and bitters were added.
INGREDIENTS
30ml freshly squeezed lime juice (juice from a half lime)
20 ml sugar syrup (or 2 tea spoons white sugar solved in water)
1/2 fresh eggwhite
2-3 dashes Angostura Bitters or Amargo Chuncho Bitters
PREPARATION
Put all ingredients without the bitters in a shaker. Add ice and shake 20 to 30 seconds.
Pour the drink in a glass and let the cocktail bitters drip on the crown of foam.
You can also prepare Pisco Sour in a blender.
The story of Pisco Sour
The Pisco Sour is by far the most famous Pisco cocktail and perhaps even more popular than the grape brandy itself. While Pisco itself was for a long time only a topic of discussion among experimental bartenders and fans of Peru or Chile, the Pisco Sour was seen on every better bar menu and in movies, books and series. The drink is not even a hundred years old - and thus 300 years younger than the distillate itself.
Where was it invented: Chile or Peru?
Just as with pisco itself, Chile and Peru are fighting over the origin of the signature drink in this category of spirits. Even today, some Chileans claim that Elliot Stubb invented the drink in 1872 in Iquique. However, this is based on a translation error - although Elliot Stubb was actually in Iquique at the time, he invented the Whiskey Sour. And even if he had had the idea for the Twist back then: Iquique only came to Chile in 1879, before that it belonged to Peru. According to unanimous expert opinion, bartender Victor Morris developed the Pisco Sour in the 1920s in his Morris Bar in Lima. Mind you, as a twist on Elliot Stubb's Whiskey Sour, the relationship cannot be denied. Morris' version was still a very simple one, though, without eggwhite and cocktail bitters. Both were added to the recipe a few years later by his employee Mario Bruiget.
Day of Pisco and Day of Pisco Sour
Pisco is one of Peru's most important exports and perhaps one of the Central American country's most successful liquid ambassadors. That's why the spirit and the drink are taken so seriously here that they each have their own national holiday dedicated to them: The Día Nacional del Pisco, the national day of Pisco takes place on every fourth Sunday in July and has done so since 1999. Five years later, the Día Nacional del Pisco Sour was added to the national day of Pisco Sour, which Peru celebrates on the first Saturday in February. Especially in the main growing areas for the pisco grapes, these holidays are great spectacles that are accompanied by days of festivals and celebrations.
Twists, variants and pisco sour for vegans
In Chile, people tend to drink the classic version of the Pisco Sour without bitters or egg whites. Although this also tastes excellent, the version with egg whites, which is more widespread in Peru, provides a creamier mouthfeel and simply more enjoyment of the drink itself. The bitters also round out the cocktail and are simply the more authentic version for a Peruvian Pisco Sour. Some people also want to try a "real" Peruvian Pisco Sour, but don't want to drink raw eggs, mostly because they live vegan. The solution: instead of egg whites, simply take 2 to 3 cl of aquafaba. This is the liquid in canned chickpeas or beans. Aquafaba is very slightly salty, but otherwise tasteless and has the same properties as egg whites. So it also provides a delicious head of foam and a great mouthfeel, all without animal products.